Yoga therapy is the process of empowering individuals to progress toward improved health and well-being through the application of the teachings and practices of Yoga.

– International Association of Yoga Therapists'  
Rather than focusing on yoga methods and practices,
yoga therapists fundamentally focus on their clients' needs.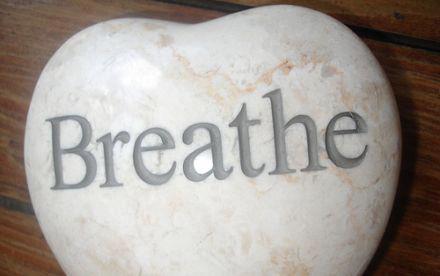 Our Breathing changes …
                               

 …in response to the physical, 

emotional,  psychological
and spiritual situations we find ourself in. For  example,  we may often hold
our breath when we are  distressed and breathe  more fully when we are
relaxed and  flowing with the moment .


Although this  example may seem 

obvious and self-evident, it is surprising how often
we  lose sight and awareness of these experiences. Breathing patterns can  become
fixed,  habitual and unable to change with these  new (or all too familiar and
unwanted) situations.   
Self-awareness and exploration of our breath provides a personal, safe,
effective base from which to  access, express, release and re-integrate
different aspects of ourselves.
n unconscious, distorted or alienated parts of
Aspects that are calling for attention through physical and/or emotional
illness, pain or tension.  Breath work supports and facilitates release of
tension and recovery, expression, processing and re-integration of memories,
habitual thought patterns, beliefs and behaviours.
The fact that breath has no form is one of the reasons breath awareness is an

extremely 

effective  

way of bringing space into your life, of generating

consciousness. It is an

excellent meditation object 

precisely because it is not an

object, has no shape or form.

 

– Eckhart Tolle                  
I remember playing 

as a child – experimenting with contorting my  body in as many 

different shapes and configurations as I could imagine; it brought me a wonderful sense 
of fun, excitement and joy. I have also always greatly appreciated stillness, quite, and 

introspection. This physical playfulness and meditative appreciation , along with yoga's 

endless potential to improve the quality of one's life, is what keeps me  engaged in 

my practice and therapeutic work.
I have practiced yoga most of my adult life with many different teachers. This has given

me personal and practical experiences with Anusara, Ashtanga, Hatha, Hot, Iyengar, 

Kundalini and Sivananda approaches to yoga. My professional training is in the Vanda 

Scaravelli inspired, 750 hour EstherMyers YTT program and associated retreats and 

workshops.
My professional Therapeutic-Yoga Practice, and teaching style/approach, is 

client/student-centred, inclusive, mindful and meditative, non-judgmental, self-inquiry and 

process oriented. It's about  relationships; with ourselves, with others and with our shared e

nvironment and universe.
My career and work experience includes the past 17 years as a psychotherapist and 

psychotherapeutic body-mind worker (Psychotherapeutic Postural Integration Master 

Practitioner). I volunteer teaching yoga in the Mood and Anxiety program at The Centre for 

Addiction and Mental Health (CAMH).